Demolition Doll Rods
ON (Swami)
By: Bruce Mowat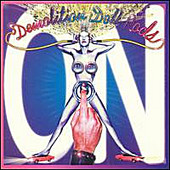 Sometime around the early '90s, I lost track of the Detroit garage-rock scene.

It's not like it was a question of losing contact with remote, faraway places. The Motor City, U.S.A. is a mere three hour ride from my Steel City, Canada (Hamilton) on the #401, and I've made the trip before (the Rob Tyner Memorial concert comes to mind), as have my peers. Furthermore, Detroit has far more of an influence over Hamilton, musically, than neighbouring Toronto, both in terms of rock (Stooges, MC5) and pop (techno, electronic).

Well, stupid me, I missed a lot apparently, including the earlier output of this veteran trio.

This particular outing is the third full-length release on as many labels since the group arose from the ashes of the Gories in '93. The DDR is comprised of Margaret & Danny Doll Rod on pedal-driven guitars, and Christine (aka "Thumper") Doll Rod on a stripped down stand-up drum kit (no snares, no cymbals, no kick).

The sound is a stripped-down, and max'd out analogue of the band's visual concert presentation. That is to say, when the Doll Rods hit the stage, they aren't wearing much, but what they do wear is stylish, in an R&B kinda way: the few threads they do wear are courtesy of Funkadelic's leather tailors. Similarly, the band's essentialist (for God's Sake, don't call them minimalist, puh-leeze!) garage-rawk take on the essence of R&B (God, sweat, sex, & skin) occurs at that exact moment when the spirits of Ron Asheton and Moe Tucker are moved to jam in the manner of the Ike & Tina Turner Revue.

The song titles say it all much better than I can: "Get It On" (not the T. Rex perennial). "Take It Off (not the R&B nugget LX Chilton dug up on High Priest.), "Sugar In The Raw" and "Fat Pussy", the latter which may or may not be about a cat. Dig in, children-- unlike my molly-coddled press peers, I paid money for this release and it was worth it.