The Toasters
Live in Brazil! (Megalith Records)
By: Richard Vardaro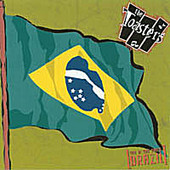 This live Toasters album was recorded in 1998 on their second tour through Brazil. In this album, the Toasters sound at the top of their game playing both current hits and the classics. And, believe it or not, the Brazilian crowd knew all the words to both.

The versions of "Ploughshares into Guns" and "East Side Beat" are indicative of what you can expect at a live Toasters show -- including a Spiderman solo by Brian Sledge (trumpet).

Even though I was always partial to the live songs on Dub 56, this is clearly their best live effort on CD and it portrays how well they play and sound live.

If you have never seen the Toasters play live -- get this album. If you have, still, get this album -- it is a must have for your Toasters collection.