The Toasters
Skaboom! (Megalith Records)
By: Richard Vardaro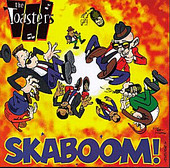 This release is a re-issue of the 1987 Moon Ska album by the Toasters with a bonus live 1985 CBGB's track entitled "Calling All The Rude Boys", as well as a bonus music video of "Radiation Skank" that you can play on your computer.

Skaboom! is the origin of ska in the United States. For all the bands that thank the Toasters for being an influence, this is the album where it all stems from.

In my opinion, this is their best album. Most of these songs are the slower versions of what they play today live (ex. "East Side Beat", "Weekend in L.A.", "Talk in Cheap") but they still sound fantastic. They say the originals are always better. This album is a must own for ska fans.