The Chappelle Show
Complete First Season (Comedy Central)
By: Alex Steininger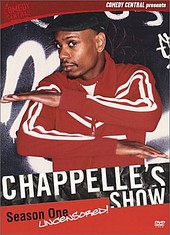 Dave Chappelle, along with Comedy Central's own Jon Stewart, has got to be one of the funniest men alive today. His show, The Chappelle Show is a testament to that. And nothing proves this more than the first episode of the first season, featuring the controversial skit, "Black KKK".

The story of a blind black man who grew up thinking he was white, and later became the leading author in the white supremacist moment, Chappelle's character Clayton Bixby is a pure racist with contempt and hatred for everyone - except whites. But, when he finds out he's black, and his wife married a black man, well, that's when things spiral even more out of control and Chappelle pushes the envelope to the most extreme - and comes out swelling fresh with millions upon millions laughing hysterically at his bold genius.

Other characters, including the loveable Tyrone, a crack addict who gives speeches at schools to help them see that drugs our bad, but somehow ends up selling them the virtues of drug abuse and gives them directions on where to buy it, make Chappelle a clear-cut winner for comedian of the century.

The first season is chalk full of memorable moments, including "Trading Spouses" and "The Mad Real World". Where Chappelle takes his crack at shows such as "Trading Spaces" and "The Real World", showing us how, with a few changes of the premise of the show, things can be quite different.

In line with this concept, Chappelle gives us insight into what would really happen if movies such as Ghost were real. And, of course, he you can't stop laughing afterwards.

Including the ever-so-popular audio commentary, as well as bloopers and deleted scenes, and extra "Ask a Black Dude with Paul Mooney" footage. There is no question why The Chappelle Show: Season 1 has quickly became the number one selling television series on DVD, recently surpassing The Simpsons, hitting over two million sold.

I'll give this an A+.