Chappelle's Show
Complete Second Season Uncensored (Comedy Central)
By: Alex Steininger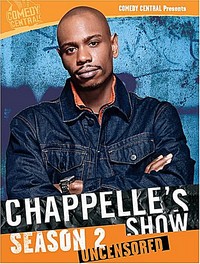 "I'm Rick James, bitch" has become a pop culture phenomenon thanks to the popularity of Dave Chappelle's comedy show, Chappelle's Show, as seen on Comedy Central.

With season 3 delayed and everyone anxiously awaiting it, Comedy Central held off on releasing Season Two as long as they could. But when it was obvious there would be no season three of Chappelle's Show in the near future, Comedy Central not only released the DVD - but started airing the DVD extras on TV to fill the hole left by the missing new episodes.

What it boils down to is this: you've seen the extras, you've seen the shows - all when they aired on Comedy Central. But, who cares, there are even more extras on the DVD and, well, how else can you relive Chappelle's genius (yes, it is truly genius) comedy show whenever you want?

Of course, there is the "I'm Rick James, Bitch" episode on the DVD, and plenty of extra Rick James interviews here, as well as unaired "Charlie Murphy's True Hollywood Stories" segments. But, the second season has equally memorable bits including "Samuel Jackson Beer", a parody of Samuel L. Jackson and Samuel Adams' beer.

One of the most edgy bits Chappelle has ever pulled off, the "Niggar Family" is included in the second season. As is another pop culture/water cooler bit, Chappelle's parody of rapper Lil' John.

The second season was as brilliant as the first, if not more so, and since there is no third season - yet - this DVD is even more essential for fans of Chappelle. With extra stand-up from Chappelle, bloopers, deleted scenes, and audio commentary by Chappelle himself, this DVD is a must. I'll give it an A+.