South Park
Passion of the Jew (Comedy Central)
By: Alex Steininger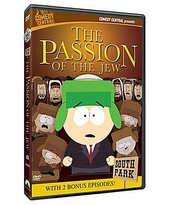 If Matt Stone and Tray Parker's "Passion of the Jew" wasn't racy enough, their "Christian Rock Hard" and "Red Hot Catholic Love" episodes do the trick.

Rush releasing this into stores to coincide with the release of the Passion of the Christ. Comedy Central has packaged one of the most memorable episodes with two equally laughable, highly entertaining episodes and delivered a DVD that, although only containing three episodes, is well worth your hard-earned money.

See Cartman devise a plan to get a platinum record - by forming a Christian rock band. And then see it all explode in his face. Watch as Cartman mirrors Hitler in his plans for genocide. And then watch as one priest tries to convince other priests to not molest young boys.

Again, there are only three episodes here, but being three of the best episodes ever, I have found myself watching this over and over and over again.

I'll give it an A-.