South Park
Complete Fifth Season (Comedy Central)
By: Alex Steininger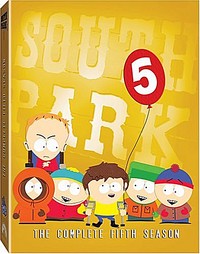 Season Five was a memorable year for South Park, a memorable year amongst memorable years. Who could forget "Cripple Fight", an episode that finds Jimmy and Timmy squaring off against each other - much to the amusement of everyone who witnesses it. Or the classic "Osama Bin Laden Has Farty Pants", an episode that finds the boys of South Park going to Afghanistan, where they encounter Osama Bin Laden - and then turn it into a Looney Tunes episode (with Cartmen playing Bugs Bunny to Bin Laden's Elmer Fudd).

But, one of my favorite episodes of Season Five was "Scott Tenorman Must Die", which features special guests Radiohead. In this episode, Cartmen, who was sold pubic hairs by Tenorman, learns that you can't buy pubes, you must grow them yourself. The laughing stock of his friends, he vows to get even with Tenorman - and boy does he ever!

It was in season five that Butters got his own episode, and so did Towelie ("wanna get high?" he always asks).

And in true controversial fashion, if the other episodes weren't racy enough, Season Five gave us "It Hits The Fan", the episode where the word shit was used 162 times.

Let's not forget "How To Eat With Your Butt", where introrectum feeding replaces the standard method of eating - put food up your butt and you'll crap out your mouth.

Ah, Season Five is classic, hands down one of the best seasons of South Park. And here it is on DVD. A must own. A MUST OWN. I'll give it an A+.