Local H
Whatever Happened To P.J. Soles? (Studio E Records)
By: Alex Steininger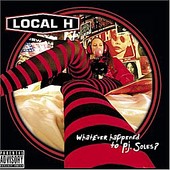 Whatever Happened To P.J. Soles?, Chicago-based duo Local H's first full-length away from the major label system, finds the band in tight form, delivering, fierce, pull-no-punches hard rock anthems, including the first single, "California Songs", which proclaims, "Please no more California songs. And fuck New York, too".

Whether they're delivering metal-infused hard-rockers such as "Money on the Dresser", the combustible "How's The Weather Down There?", or the Nirvana-esque "Heaven On The Way Down", the band is always lively, energetic -- and playing with an intensity matched by few.

The metal-folk of "Hey, Rita", or the simplistic metal of "Heavy Metal Bakesale" may be two of the album's highlights, both equally biting and raw.

The band hasn't slowed down, or softened, as so many modern rock bands do with age. Local H has actually hardened and gotten louder with age, and for that they should be applauded. And though Whatever Happened To P.J. Soles? may not be their best record (those honors should go to their hit record, As Good As Dead), is definitely their second best offering and most valid record in a long time. I'll give it a B.