Siren's Echo
Psalms of the Sirens (Jus Family)
By: Gray Gannaway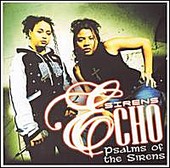 Siren's Echo is a duet comprised of Toni Hill and Syndel from the northwest hip hop collective Oldominion. On their debut full-length Psalms of the Sirens, the girls skillfully pull off a wide range of styles, both vocally and on the boards, while maintaining consistency throughout the album. While many female hip hop artists seem to appeal exclusively to female fans, this is definitely not the case with Siren's Echo.

Toni and Syndel complement each other extremely well, seamlessly trading off intricate lines and blending intelligent lyrics with accessible hooks. The disc is packed with smooth production (Pale Soul has some of the hottest beats in the northwest and steals the show on this album), and Siren's vocals are simultaneously silky and street. Slow jam fans will appreciate the occasional singing throughout the record, and while some of the sing-along choruses start to lose me, the variety of flavors on this album are well balanced. Highlights include the club friendly "And All My...", the smooth but funky "Gypsy Cab", and "Big City" which features some of the best non-preachy spoken word I've heard on a hip hop album in a while. Suspenseful strings and a marching drum snare provide the perfect soundtrack for the heavy feel of "Paper Dolls". Overall a solid debut full-length for Siren's Echo, Psalms of the Sirens is yet another reason to keep your eyes on the OD crew.