Doogie Howser, M.D.
Season One DVD (Anchor Bay Entertainment)
By: Alex Steininger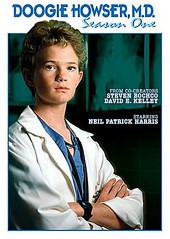 I will never be able to look at Neil Patrick Harris and not shout, "Hey, It's Doogie Howser, M.D.". Just a young lad in the late 80s when this show first aired, I gravitated towards it because it was quite interesting -- a 16-year-old, kid doctor. In nine weeks he got his high school degree, at age ten he graduated from Princeton, and at 16 became a licensed doctor -- and got a job at the local hospital, Eastman Medical Center.

Yes, it got my little head swirling with dreams, and wondering why I couldn't do the same thing. It was an inspiration, and grew much curiosity from me.

Looking back on it now, however, through Anchor Bay Entertainment's release of the show's first season, all 26 episodes, which includes exclusive interviews with writer/producer/co-creator Steven Bochco and star Neil Patrick Harris (yes, Doogie himself), I can't help but think to myself that this show, despite being corny at times, was imaginative and, well, far fetched. But, through Emmy award-winning writing and a talented cast, they actually pull it off.

That's right, Doogie Howser, M.D. -- Season Two is chalk full of good fun, from the laughs, through the ridiculousness of it all, to the realism of it as Doogie gets his first kiss and his driver's license.

It certainly isn't one of the best shows in history, or the most entertaining, but it has its moments, and those moments jump out at you when they hit. Nostalgia alone will take you far sometimes, and that is what Doogie counts on here, and it works. Light and frilly, the show is cheap filler -- but sometimes that's all you need. If they could just make the DVD more value-added (audio commentaries, outtakes, and more interviews from the cast), it would spruce it up a lot, though, and make it more than just a saccharine offering. I'll give it a C.