Dig! The Movie
The Dandy Warhols' guitarist Peter Holstrom discusses Dig!, the movie about The Dandy Warhols and Brian Jonestown Massacre
By: Alex Steininger



Shot over seven years and culled from over 1500 hours of footage, DIG!, a feature-length documentary, follows the lives and shenanigans of Brian Jonestown Massacre's mastermind Anton Newcombe and The Dandy Warhols' leader Courtney Taylor-Taylor.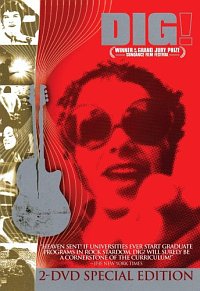 The documentary portrays their bitter rivalry, oddball friendship, and their bands' different paths on a quest for domination through their music.
DIG! was directed, produced, and edited by Ondi Timoner, as well as co-produced by David Timoner and Vasco Lucas Nunes, who both also handled cinematography.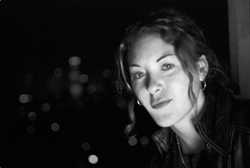 "I'm not even really sure [how we met Ondi Timoner, David Timoner, and Vasco Lucas Nunes]," says Dandy Warhols' guitarist Peter Holstrom. "It was through Anton that these people came up and wanted to film us. We always wanted something to document us. So we said yes."
The original idea, however, wasn't to document and detail the lives, friendship, and rivalries of The Dandy Warhols and the Brian Jonestown Massacre. The original intent was to do a documentary on scene bands, how they got there, and what became of them.
"We're just the two that stuck around to see this finished," says Holstrom, commenting on how and why the film would eventually focus on just those two bands.
"We first started seeing edits and knew what it was about a year before it came out," Holstrom replies, when asked when the bands figured out it would focus on just Brian Jonestown Massacre and The Dandy Warhols.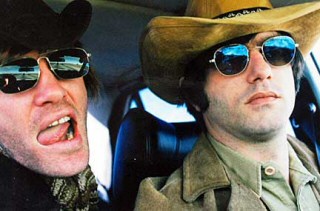 Holstrom also tells me he was unsure if the documentary would ever come out because "there was no ending. Both bands are still around and didn't seem to be quitting any time soon."
Suffice to say, but bands were unsure what direction the documentary would take, what the plot would be - besides detailing the lives of the two bands - and how it would end. That is, until it was too late.
"When [filmmaker Ondi Timoner] got pregnant she decided she would finish it and wrap it up," says Holstrom.
The band wouldn't see the final movie until it was finished.
"Courtney didn't see it until the theatrical release at Cinema 21," recalls Holstrom. It was about this time that both bands were upset with the film and wanted certain things changed and/or removed. But it was clear that wasn't going to happen.
"Anton wasn't happy with it but he couldn't tell her to not put it out," Holstrom tells me. "I wasn't happy with it either. It was a trust thing. I told her some things that were not to be put in, and she did anyway."
Holstrom makes it very clear that, overall, he's happy with the film and thinks it is pretty good. But there are still things he wishes weren't in it or would be portrayed differently.
"I was a little unhappy with where she went with the story. It makes Anton out to be pretty one-sided. If he was that much of a lunatic we wouldn't have developed that friendship with him and we wouldn't have toured with him."
"If I did it I would have done it differently," adds Holstrom. "But, it's still a good film."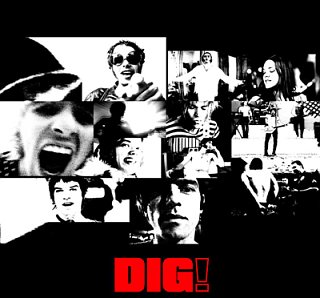 Looking back on the film, and the making of it, Holstrom has a lot of found memories. "It's nice to be reminded of what you sounded like back then. It's like your yearbook," he says.
There are a few things that make Holstrom uneasy when he watches the film, something he's regretful, but accepting about.
"Most of the nostalgia is in a good way, but there are a few parts that made me cringe. There are a few things that I say that I feel I sound stupid on. But it was because I was young," he recalls. "I said some stuff that was really awful, stuff I said when we were going through a rough patch."
He also has a sigh of relief, commenting to me there is some stuff he said and did that he's glad didn't make it in the final version.
With some disapproval of the film running through both bands' camps, and some uneasy parts that make him cringe, I ask Holstrom why he's doing press to help promote the DVD then.
"We don't get a huge amount of radio play in the U.S., so it's just another way for our music to get out there," he quickly offers up.
Holstrom tells me that he hopes people who view DIG! get interested in both bands and check out what they've done. He also hopes those that are already into one or both bands earn a greater appreciation for them and their music.
"If you're already interested in the bands, it's a peak behind the scenes and they'll enjoy seeing what goes on," comments Holstrom.
We start discussing The Dandy Warhols' commercial success versus the lack of commercial success for Brian Jonestown Massacre, of which Holstrom has been a fan of for many years now.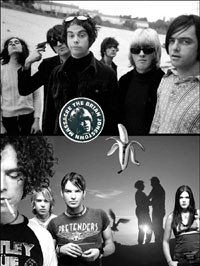 "I've had a Brian Jonestown Massacre sticker on my guitar well before the film, for like 8 or 9 years now. I've been a big fan of the band for awhile and would love for more people to check them out. I think they deserve a lot more success than they have," he tells me.
When I bring up the idea of the two bands touring together to promote the DVD, Holstrom tells me "I would love to take them on the road because it would be an amazing show. Plus, having a band like that go on before us would really put the pressure on and make us step up."
However, he adds, "I don't see it happening any time soon."
The Dandy Warhols are currently in the studio finishing up their latest full-length, Odditorium or Warlord of Mars, which will be released in September. The band will tour extensively following its release.