SHOW REVIEW: Dizzee Rascal
Doug Fir Lounge - March 31, 2005 (Portland, Oregon)
By: Gray Gannaway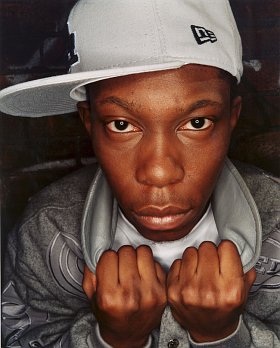 Dizzee Rascal is now touring in support of his sophmore album Showtime (which I haven't had a chance to check out yet), and his 3/31/05 show at Doug Fir's caught me off guard in a few different ways. Dizzee has recently become a bit of a posterboy for a new hybrid of electronic hip hop (called "grime") and has a style that would capture many a Portland hipster - the type that doesn't usually like rap. After all, he was quickly snatched up by Matador (not generally known for its hip hop) almost two years ago, and has been featured in almost every well-known music publication I can think of. I expected Fir's to be only sparsely filled with slightly curious coolkids (especially taking into account the fact that Dizzee's show came the night after DJ Premier of Gang Starr headlined a free 5 hour Scion DJ event at Holocene), but what I found was a packed club of avid fans, most of which could sing Rascal's songs word for word, an amazing feat in itself given Dizzee's thick british accent and rapid-fire flow.

Rascal will probably always stay 18 years old in the minds (and reviews) of many journalists since his age at the time of his debut album was the most hyped aspect of this London emcee/producer's blazing entry into the U.S. hip hop circuit, but age aside, Dizzee is obviously one of the most talented new rappers in the game right now. A few people have told me they were disappointed with his live show in the past, but they must've seen something totally different from what I witnessed at Doug Fir's.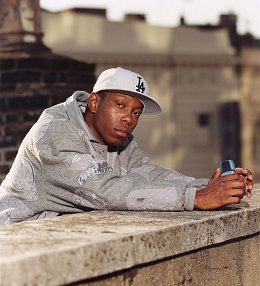 Dizzee, his talented partner Scope, and DJ Wonder set off the explosive set on a pitch black stage, with Dizzee lounged in the center shooting off the opening lines from "Sittin' Here", the first track from his debut album. He quickly burst into a busy acapella that left the crowd both stunned and amazed before continuing to blaze through a short but sweet set, switching back and forth between cuts from his critically acclaimed debut album and his newest release, Showtime. Highlights included "Jezebel" and his radio hits from Boy In Da Corner such as "I Love You" and "Fix Up, Look Sharp", which came out in a slightly predictable encore (along with some bouncier tracks I'm assuming are found on Showtime).
As great as Dizzee's albums are, his live show is even more mesmerizing and comes across as a bit more rap oriented. Good sonic representation is key since his thick, synth-filled and distorted drum production is the most captivating element of his sound, and Doug Fir's system handled it exceptionally well. My only complaint would be DJ Wonder's lack of...well, DJ'ing. Other than that, Dizzee's got his formula down right.