SHOW REVIEW: COMEDIAN Doug Stanhope
Dante's - Friday, March 25, 2005 (Portland, Oregon)
By: Alex Steininger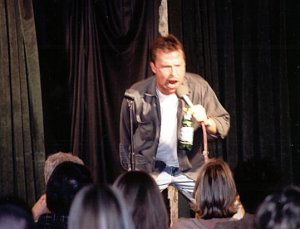 Comedian Doug Stanhope, best known as a co-host of The Man Show (Comedy Central) and the guy from the latest Girls Gone Wild video ("show me where babies feed," he says to coax one co-ed to flash her breasts, highlighted in every commercial for the DVD), has been a touring comic long before any TV shows (some may remember him from the short-lived "Invasion of the Hidden Cameras" on Fox, which he wrote, produced, and starred in, lasting 10 aired episodes between July 2002 and August 2002, while 3 remain yet-to-be-aired).

However, on a wet Friday night, Stanhope, back to his natural habitat, smoky clubs filled with drunks, made his third trek through Portland, returning to Dante's.

It was there, on that cold night, March 25, 2005, Stanhope, who, incidentally would soon be celebrating his wedding anniversary and his birthday (as of midnight, March 26th), seemed on top of his game.

Not only was his wedding anniversary and birthday quickly approaching as the night progressed, but the show was also being filmed for a DVD, further helping to ensure Stanhope would pull out all the stops, and his best material, to work the crowd into a fervent laughter.

Whether you've heard any of his CDs 1998's Great White Stanhope (Uproar), 2000's "Sicko" (Stand Up), 2000's "Something to Take the Edge Off" (Stand Up), and 2004's "Die Laughing" (Stand up), or his latest DVD, "Deadbeat Hero" (Ad Lib) it didn't matter. Familiar with his material or not, Stanhope's take on drugs, addictions, former football player Reggie Williams quitting football in favor of weed, and the idiosyncrasies of government, and stupid people in general, had the crowd mesmerized.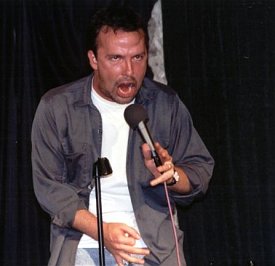 Some may find Stanhope's brand of humor a bit too perverse, way beyond over-the-edge, and even somewhat confrontational (he has no problem engaging those audience members who care to shout and interrupt his set in off-the-cuff bits which bring said audience members into the show).
It is this seemingly spontaneous exchange, and effort in which Stanhope dives from his set to engage the audience, back into his routine, which makes Stanhope's seasoned ability truly stand out, and marks him as one of the most well-versed comics out there today.
Stanhope moved from one topic to another with reckless abandon, much to the joy of the crowd, building up and tearing down everything in his way (in regards to Reggie Williams, proclaiming that drugs didn't ruin Williams' football career, but drug testing did), every step of the way advocating drug use, as he distinguished between a good drug and a bad drug (though later pointing out that bad drugs make a bad situation good, whereas good drugs make a bad situation worse).
For a little over an hour, Stanhope kept the crowd on edge, while laughter filled the room, even more so than cigarette smoke, and his drunkenly profound muses turned heads, and no doubt sent more than a few stumbling home with altered consciousness.
Once his set was over, Stanhope exited the stage, promising he'd be going all night, after he took a break. But the encore would not be more stand-up, he told everyone, rather he would be inviting the audience up on stage to share real-life, fucked up stories they had experienced.
It was once this door was opened that the show took a quick nose-dive, with people coming up, turning should-be two-minute tales into long-winded, go-nowhere meanderings that even Stanhope had to get back up on stage and push to expedite the story.
It was at this point I was about ready to call it quits, more than pleased at Stanhope's lucid performance earlier that evening. But, just when I was ready to walk out of the club, Stanhope would pull the proverbial rabbit out of the hat by jumping up on stage, divulging a fucked up story from his life (or, breaking out bits and pieces of his stand-up routine he hadn't done earlier in the show), and once again get the crowd attentively on stage.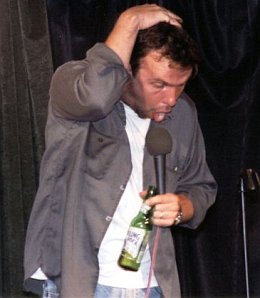 It went back and forth like this for awhile, before a female friend of Stanhope's jumped up on stage to talk about how she fucked a cop and found a dead man in the porn store she was working at, and Stanhope's own wife and opener Andy Andrist came up to talk about the time they teamed up to pick up a woman for Andrist.
Stanhope knows his audience well, he knows how to play to them, and he knows how to bring them back when their interest is feigning. Tonight's performance was a memorable one (as it should be if they're gonna record it for future use), with Stanhope further convincing me of his comedic prowess. Never was there a moment when Stanhope dragged, lost his focus, or seemed to meander on stage without a point or purpose. The execution was flawless, and his delivery packed a punch equal to that of the material, a sharp sting if you lost focus for even a minute.