Chuck Schuldiner
Zero Tolerance 2xCD (Candlelight Records USA)
By: Jeb Branin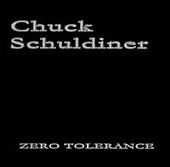 How can any fan of death metal not like this? Seriously, how? Chuck and his band DEATH literally retooled the entire burgeoning death metal genre in their own image thanks to the magnificence of their 1987 debut album Scream Bloody Gore.

In 1987, I was in college and first read about DEATH in a review of Scream Bloody Gore in Kerrang! That review predicted DEATH would start a revolution - and so they did. I picked up the album and my jaw literally hit the floor. It was some of the most over-the-top music I had ever heard. To this day, Scream Bloody Gore and the follow up Leprosy melt my fillings.

Death would not have been death without DEATH. Simple as that.

The Zero Tolerance double disc features 30 minutes of demos from the never finished second CONTROL DENIED album. It also has a poorly recorded live set from DEATH circa 1990 on the Spiritual Healing tour, but the best parts of these discs are the DEATH demos. Between the two CDs you get the Infernal Death demo, the Mutilation demo, the Death by Metal demo, and the Reign of Terror demo.

On every track you will revel in Chuck and Company at their rawest and most unrefined. Sure there is nothing on here that matches the glory of DEATH's studio masterpieces, but who cares? We're talking 26 tracks of pure DEATH death (plus the four CONTROL DENIED cuts). I also have a personal connection to DEATH because Chuck was diagnosed with his brain tumor the same year my wife was diagnosed with her first (of two) brain tumors. Unfortunately, unlike my wife, Chuck did not survive his illness and left this world for something better in 2001. There has been some controversy about Zero Tolerance because, as I understand it, the Schuldiner family was not in favor of it being released. But putting that aside, I ask again - how could any death metal fan NOT like this?