Slapshot
Tear It Down CD EP (Thorp Records)
By: Jeb Branin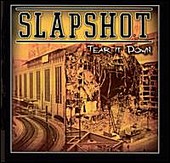 Choke and company return with either another feather in their cap or another nail in their coffin, depending on your perspective. Most of you probably have already decided whether or not you are a fan of SLAPSHOT and chances are that decision is based more on Choke's inflammatory rhetoric and unapologetic verbal bravado than on the band's music. Let's be honest - it is hard to fault the music. After two decades SLAPSHOT is still playing balls-to-the-wall streetcore with such lucid intensity that you can almost smell the blood, sweat, and bile they pour into their music.

Countless hardcore bands initiate violently swirling pits, but SLAPHOT sound like they created their music while in the middle of one. Lyrically, by contrast, there is plenty to fault. SLAPSHOT have fine tuned insulting people and sparking controversy into a science. On Tear It Down the verbal barbs are aimed at everyone from government lackeys to white kids who like rap to 21 year olds who preach oldschool rules to the entire city of New York.

Sometimes the lyrics are funny (even clever) but usually they are just seditious for the sake of being pissed off or pissing someone else off. As is Choke's lyrical style, he often paints with a broad brush and as a result uses stereotypes and prejudicial cliches in his rants. Whether or not you agree with him or whether or not you can look past him, it is undeniably hard to just ignore him. The CD comes with a lot of enhanced content that is so high quality and well done that it will (unfortunately) probably overshadow the music for a lot of fans. Sounds like a topic for some future Choke diatribe, if you ask me.