Dash Rip Rock
Recyclone (Alternative Tentacles)
By: Jeb Branin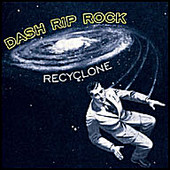 Hot damn, ya'll. This is a twenty tune collection of the best of DASH RIP ROCK. And by "best" I mean beer-swiggin', boot-stompin', skirt-chasin', back-porch swingin', tobacco-spittin', lip splittin', southern-fried BEST!

DASH RIP ROCK is the band that you would expect to share the bill when you go to a SUPERSUCKERS gig. They are the band who when they hit the bar circuit plays the rock clubs and the country clubs and doesn't get booed in either place. You would expect the members of DASH RIP ROCK to wear cowboy hats AND brass knuckles. You would expect them to worship at the altar of Hank Williams AND Blackfoot AND the Ramones. Like any "collection" CD there are a few tunes that don't quite cut the mustard but before you can even think about being annoyed the CD tracks to the next tune and you get your rocks off once again.