Taz Taylor
Caffeine Racer (No Hair Records)
By: Vinnie Apicella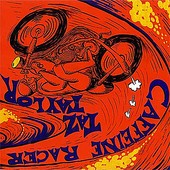 This twelve track guitar-rock instrumental by the soon-to-be known Taz Taylor combines clever virtuosic and rhythmic interplay, fed by a lifelong obsession of six-string dreaming fueled by fast bikes and life on the road. Taylor's debut is more rock-bred and AOR styled than to do with streaming scales over a classically dark sky.

"Caffeine Racer" as the opening song is Satriani-like in spurts, but soon overtaken by Taylor's aggressive style and quick take off; "Loose and Unscrewed" combines with "Right Back Where I Started" to showcase a mood changing depth and minor chord melody that throws back to the classic rock moments of early Scorpions, MSG and Rainbow, the latter two providing the outlet for his honorably mentioned faves, Schenker and Blackmore.

Dominated by three minute odes to anything brought to mind when you're sitting alone in the cabin of your truck -- life on the road, an ambition to play, reach the destination, the trip through the miles, and so on, exemplified by tuneful melodies cut with rigid chops, carefully placed harmonics, and the occasional burst of lightning to appeal to the hi-tech guitar gods before falling back to the core of the song.

Overall, listeners will find this is a solid rock record where the songs speak for themselves inasmuch as would a full band's playing, only in this case Taylor is the band, save for the drummer. "Chilling Times" is among the atmospheric of pieces that from the onset, combined with a driving riff that's like a crack of thunder invading a peaceful gray sky, while the touching "George's Song" at the close is a soft-flowing tribute to a lost loved one.

Regarding notable guitar wizards, listeners will find bits and pieces for comparability, besides the aforementioned Satriani and Blackmore, there's a bit of Vinnie Moore to the playing, but more so, plenty of good old fashioned riffs and power chording with an organic production that gets the point across without filler effect. Taylor's not spectacular, nor is he a slouch, but taken at face value, Caffeine Racer is catchy, uplifting music that blows precept of what a "voiceless" record is supposed to signify, that musically speaking makes the point loud and clear.