TBone
Don't Look Back (Ratamacue Records/Now Independent)
By: Sylvia White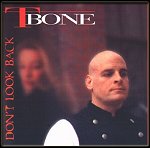 His name is T-BONE and from the sound of his name you really aren't sure what to expect from him as a music artist. I initially thought perhaps he was a rocker but was pleasantly surprised to see that his work veered more towards a jazz-funk fusion of sounds. Once on Ratamacue Records, now an independent artist, Jeff "TBONE" Gerard's sound is a mixture of many things. The most noticeable detail of his release, "Don't Look Back", is the socially aware material he has chosen to focus on, also noticeable is the album's evident live feel.

With a voice and style sometimes reminiscent of the jazz artist, Bobby Caldwell, TBone has a style of his own. His voice, a blend of depth and clarity from delivery to expression, makes him into what I can imagine to be a really great live artist. The instrumentation and live orchestration of each track gives the listener a feeling of "being there". On the eleven track album the listener is struck with messages on a social and emotional level.

On tracks such as, "Don't Look Back", we get to hear the funkier side of his talent. The horns and his strong delivery leave an impression on the ear. Such tracks as "Another Time" and "To Good" have a more relaxed tempo. These two tracks are relationship oriented. TBone's vocal delivery takes on a more sensual tone with these two cuts. "Lonely World" is an example of his social concerns. It's message of homelessness and poverty are put to an up tempo horn track and his vocals take me back to Al Jarreau during the '80's, that fact alone lends to the quality of this cut. "Go Away" is one of those jazz club sort of cuts, the horns and trumpets give this an evening feel. TBone eases into the horns gently. On my favorite cut off the entire album, a ballad entitled, "Only One", TBone bathes us in this slick tune. His throaty vocals force each note softly. The instrumentation is great.

"Don't Tell Me" is another of those social songs. This cut feels a bit hurried. The lyrics are attempting too many issues at one time, from racism to war to abuse, it's tends to be too much. 'Let Me Know" is a nice mid tempo track that isn't overdone, it hits me just right. "Broken Promises" is a rough edged cut with streaming horns and an aggressive baseline. Good cut.

The album as a whole gets a strong 4 from me. TBone's vocals are powerful to say the least. As I am sure he is a wonderful live performer, that fact alone shines through. The material itself is diverse and well written though I would appreciate a bit more of his softer ballads. His voice is a wonderful instrument and to hear him croon a bit more would be a wonderful thing. Though the jazz elements are strong throughout this album, it does not necessarily make this into a jazz album, it is everything but, there is a fusion of sounds. From Jazz to Funk, TBone is hitting various chords..all dramatically. Pick up your copies today!