Nickle Creek
Why Should the Fire Die? (Sugar Hill Records)
By: Alex Steininger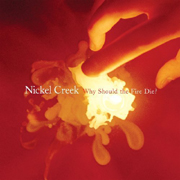 Following up 2002's widely successful This Side (Sugar Hill), Nickel Creek is back with Why Should the Fire Die, a fourteen track CD that proves Nickel Creek is here to stay - and that the bluegrass genre is theirs for the taking.

Using producers Tony Berg and Eric Valentine this time (Nickel Creek's first two records were produced by Alison Krauss), Nickel Creek tap Berg and Valentine for their experiences (they've worked with the likes of Smash Mouth, Queens of the Stone Age, and Good Charlotte).

Thinking outside the box like that, Nickel Creek has made Why Should the Fire Die? a solid acoustic record, pushing both themselves and their production team to help them make a standout record.

Acoustic bluegrass never sounded so good. Whether mandolin player Chris Thile, guitarist Sean Watkins, or fiddle player Sara Watkins are singing, the band always had relaxing folk-inspired bluegrass behind spot-on vocals, making the already comforting notes even more soothing. I'll give it an A-.