John Prine
Fair & Square (Oh Boy Records)
By: Alex Steininger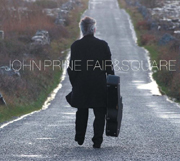 In his over thirty-year career, John Prine has seen and done a lot of things. Creating everything from folk to rockabilly to country, Prine is no stranger to various genres and creating strong, memorable songs no matter what style he's writing in. So, it is with no surprise that Fair & Square, his latest, weaves through folk and country, blending the two effortlessly, and leaving memorable songs in doing so.

After seemingly beating cancer, Prine seems optimistic and happy, as the album opener "Glory of True Love" documents. Upbeat and positive, Prine makes you feel warm inside too.

"Taking A Walk" is a great country song that will make you feel as if Prine is right now to you singing in your ear, while "Clay Pigeons" is an equally intimate, honest folk tale. "I Hate It When That Happens To Me" finds Prine delving into soulful blues. And then there are two bonus tracks, the live cut "Other Side of Town" and "Safety Joe", both of them solid, folk story songs that show Prine's storytelling and writing abilities.

Prine shines once again. Fair & Square may find him older and wiser, but no less gifted. It's a great collection of world traveled songs from one of the greatest folk/country songwriters of all time. I'll give it a B+.