The Proclaimers
Restless Soul (Persevere Records)
By: Ricky Flake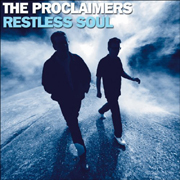 I really enjoyed The Proclaimers? last album, Born Innocent (2003), which was one of that year?s best recordings. It served up a joyful jolt of clean, clear, old-fashioned pop rock (with occasional cynical twists). Restless Soul, released stateside. September 6, doesn?t seem quite as catchy overall; but with twin brothers Craig (vocals) and Charlie (vocals/acoustic guitar) leading the way with their spot-on harmonies and full-throated singing, it grew on me rapidly.

In fact, by the second day of listening, the songs performed by the Reids and their excellent band (Stevie Christie/keyboards & accordion, Zac Ware/guitars & pedal steel, Ross McFarlane/drums, Garry John Kane/bass) had pulled me into their perfect folk-pop universe.

The happily almost-carefree drinking song, "I?m Gone," the Spector-ish feel of "Everyday I Try," "When Love Struck You Down" and its glorious old time R&B feel; the classic country vibe (think Johnny Cash or Waylon Jennings) of the witty "The One Who Loves You Now," the cynical anti-war song "D.I.Y.," and the heartbreaking ballad about losing a loved one, "Now and Then" show that The Proclaimers are one of the best bands in the classic sense (singers, songwriters, entertainers, spokesmen) in today?s scene. This album is slicker than its immediate predecessor, but it?s got a multitude of charms, including wonderfully direct, straight from the heart lyrics like these (from ?D.I.Y."): "Warmongers-kill yourselves, demonstrate the power of the product you?re trying to sell; Gun wavers-shoot yourselves, Make a big hole in your head with a shiny shell."

Witty pointed lyricism is still alive and well in Scotland, and The Proclaimers will tour Canada and the northeastern U.S.A. this fall!