Half Light
Wait for Someday (self-released)
By: Christopher Margolin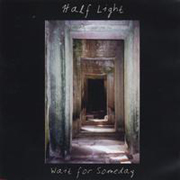 As soon as Dayna Loeffler opens her mouth, you'd swear that Mazzy Star has found her way out of a rehab clinic somewhere and re-emerged under the name Half Light.

For some people, this would be quite the exciting news - for others, you may want to plug your ears and scream. If Courtney Love and Mazzy Star put a new group together - and for all you musical junkies who love Mrs. Cobain and Mazzy, and know that Mazzy's band consists of the original Hole lineup, then I'm sorry if I offend you - then you have two things to consider: number one, the perfect music for your next viewing of Requiem for a Dream, and number two, one of the biggest mistakes in music history. If this record was taken off of half speed, I have a feeling it would sound pretty good.

Unfortunately, the five-minute songs feel like an hour or two. The let down is that these lyrics are really good; however, to know that, you'd have to suffer through the CD without falling asleep.