James Solberg
The Hand You're Dealt (Ruf Records)
By: Alex Steininger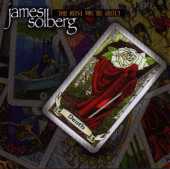 The first time I put this CD in, I could have sworn it was a live album. Nobody - and I mean nobody - can capture this much energy, this much strength, and this much stamina on an album. Even for a live album, this much power would be a stretch. But, upon further listens, I realized it was indeed a studio album. This left me baffled, because I couldn't figure out how in the heck James Solberg, his engineer, and his producer could get this much sweat onto tape. And then it dawned on me. This guy has got to be ten times more impacting live, which is a scary thought, because as it stands this album will floor you.

"Build You A Castle" is how blues-rock should be. Sky high guitars, crisp, gutsy vocals, romping rhythms, and keys that hit you time and time again like a sprinkler that comes on strong, backs down, and then comes on strong again.

"I'm Goin' Home" packs a hearty soul punch, with plenty of blues to back it up. Soul and blues never sounded livelier in the new millennium. This is stuff of legends. And even the legends can't reach this level in this day and age. Here is stuff strong enough to call back catalog, but it's new, so you can't. "What's Comin' Down" smokes with tasty blues guitars and sheltering rhythms, while "Perfect Strangers" simmers.

Ah, this disc is deadly. The blues will never be the same. Sure, there is a lot better blues out there, but the majority of it is back catalog recorded in the 30's, 40's, and 50's, or from musicians who've been doing it for fifty to sixty years. And, even though James Solberg isn't a new cat, The Hand You're Dealt is new, yet it carries itself with age and grace. I'll give it an A.