The World Is My Fuse
Good Intentions (Espo Records)
By: Alex Steininger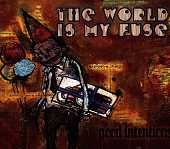 Jarring, unsettling guitar-rock, The World Is My Fuse has been lit and is now counting down the time before it explodes with a pulsating crash, like its songs. "Ohio" crawls with a drunken stagger while still bashing out the seemingly effortless noise that propels into the air and finds it spinning around in your head. "One More Time" jangles with crunch; poppy and adorable, its fierce, fiery grit doesn't hide for too long. It comes out screaming, ripping through the speakers with intensity and vigor.

"Compass" drives the rock home, while "Home" brings forth a slight-emo tingle beneath the loud guitar rock and hardcore tendencies. And how could we not mention "Self inflicted," a song that burns with an arena rock drum pound, a straight-out-of-bed vocal feeling, and light drops of fuzzy guitars float throughout.

Moody, powerful, and daring enough to shake things up from time to time, this is modern rock that got its start in the indie rock world, blossoming out of lo-fi, beating down doors with the loud rock, and never looking back. I'll give it a B.