Reto Burrell
Echo Park (Blue Rose)
By: Gary "Pig" Gold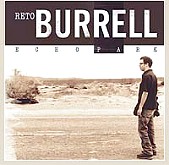 Here is one ultra-solid track-by-track, end-to-end li'l album that is always as smart as it is sassy and even snappy (and yep, I mean the snare drum particularly!) For although the artist is SWISS, the approach is nothing but dead-on American -- as in rootsy ("Scratch On My Face" especially), hooky, and positively guitar-drenched.

Yes, I said guitar. Remember them?

At any rate, from the opening "Does Anybody Wonder" straight on through to "Echo Park"'s closing bars, Reto displays an obvious talent for songcraft which is assuredly strong, but without ever caving in to pretension or even cliche. "Shot Down," to cite just one, is a gruffly swaying exercise in exactly how a bare-boned arrangement can work wonders, while the comparatively gentle, spacious "Without A View" breaks the proceedings up delightfully at the halfway point with a welcome earful of genuine sonic prairie dust.

No fireworks here; no backflips or razzmatazz. Just to-the-point music-making from a man who obviously knows how to do just that.