Various Artists
Composed On Bicycles - Holiday Matinee Compilation Volume 3 (Holiday Matinee/Second Nature Recordings)
By: Alex Steininger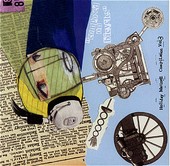 One of the most up and coming indie rock publicity companies, as well as a center for promising artists, filmmakers, writers, and clothing companies, Holiday Matinee expands beyond any other music company, taking their love of art well beyond that of the confines of rock music.

A fitting description of their passion for everything art-related, Composed On Bicycles, the third installment of their compilation series, showcases their love of music and some of the bands they are currently pushing.

From the power-pop/indie-rock of Superdrag, the melodic heart-on-the-sleeve post-punk of The Jealous Sound, the acoustic musings of singer/songwriter Rocky Votolato, as well as Aberdeen's mid-fi indie pop, and Inner's space-electronica-pop experiment, Holiday Matinee proves they love music by not sticking to any one style.

They're hard workers, fans first, and love to spread the word of great music and talented bands who might otherwise go overlooked. Let's give a round of applause for Holiday Matinee. Here's to you guys! I'll give this a B+.