Shy
Unfinished Business (Z Records)
By: Vinnie Apicella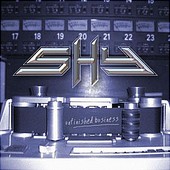 When we last left Shy they were a dazed and confused ship without a shore; The crashing wave of Grunge and Alternative quickly wiped out a once burgeoning generation of followers, successfully downing the fair haired Pop Metal prototypes and setting them adrift in a sea of dread; Denizens of fellow glamsters, who honestly weren't even in the same class with Shy, were all suddenly held with zero esteem for a new culture of negativity seekers and the hardcore faithful could only soak in self-pity over that which had been robbed from them. Such is the fickle finger of fashion. Truthfully, Shy's best moments had already passed by that time; Their original vocalist had since founded the progressively-shaped outfit known as Siam, while the rest of Shy carried on, seemingly half-heartedly, with another vocalist, dabbled in and out of image, and disbanded without so much as a "Where Are They Now?" local news segment -- though in the Far East, we should acknowledge that anything's possible. Shy's "Resurrection" came by way of the unlikely Neat Records and their impressive team of Metal enthusiasts with a knack for reclamation project rejuvenation. Shy, and quiet, for a number of years, they were recalled to reissue some of the early stuff, which included their original "Once Bitten, Twice Shy" LP and unexpected "Live" record from their late '80s tour with the legendary Gary Moore. And along with a number of B-sides, unreleased rarities and handful of "A" quality tracks, Shy basically had four or five year's worth of material hitting the market without lifting an instrument.

This time they come back armed with ten brand new tracks and the tenacity to prove the promise that existed all those years, still remains a driving force toward the ultimate fulfillment. While many an AOR group has been known to enjoy some success overseas and maybe even earn a few for the struggling Indie, few have ever returned to revisit the same degree they had the first time. Shy remains all but non-existent on western shores and that's difficult to comprehend. But Bon Jovi's probably the biggest they've ever been and Bob Rock's presumably still producing records and writing "hits" and so to a band like Shy, I say why not? They were right there riding with the big boys when the mid-to-late '80s party vibe and pretty faced pretense was in full swing, and their "Excess All Areas" record was "breaking down walls" left and right. Sure they were plagued by industry dissent and performance drop afterwards, but by then, the glam scene went from flourishing gold to bare scalped and thin anyway and seriousness overtook silliness to where even JBJ and crew knew to lay low a while.

"Unfinished Business" is just that. To say this record is the roaring beast of a comeback fans have been waiting for and sees the band gone H/C to stamp out the last days of a disillusioned youth, well no, it's not that. But for anyone that indeed missed the band that at their prime were on equal footing and then some to the Bon Jovi's, Dokken's, and Journey's of their time, you'll be pleased to know this erases all doubt and about a decade's worth of indeterminacy that followed. Considering that I have the "original master" of the CD, thanks to Mr. Roy Davis, band bassist, "Madhouse" Rehearsals alum and facilitator of all things Phoenix, without whom I might have to rely solely upon the ever responsive folks over at Z who seem unwilling to acknowledge there might exist an audience outside of five feet in front of them; And as such, I can give a full recall of the songs, only a few of the out of sequence titles escape me. To put it simply, the album sounds like "Excess All Areas" with a rougher edge owed greatly to a coarser production -- then again, I did mention "OM" earlier, did I not? This is in fact the original band save for new drummer, Bob (last name withheld for security reasons?) with the penchant for tennis shirts and tenacious 4/4's and quick fills.

Best tracks that I can discern the titles of include the opener, "Change Of Direction," of which this album is thankfully anything but, and comes across similarly as did their acclaimed "Break Down The Walls" hit, or the later "Let The Hammer Fall" from the album of the same name and same previously mentioned grouping of do-overs. Afterwards we're peppered with some cute and cozy "hit" candidates, led by "Mary-Anne" and "Heaven Tonight," two unbelievably catchy numbers that straight away drain the flood of a fourteen year misery; There's a slow one that clocks in sixth that I can't for the life of me figure out what it's called, although I have ruled out the aforementioned two as well as "Breakaway," "Communicate," and "No Other Way," all three of which are album topping highlights in their own right, far surpassing even my own expectations that they could rival even a hint of their prime. Tony Mills, operating again with the band for the first time in over a decade, hasn't lost an ounce of vocal ability, though again I'll yield to the "mix" and not attempt to compare it to the production room polish of the past. But the man can still hit the high note, successfully holler and harmonize at the drop of a verse and still inexplicably remain housed in the "Who's It?" list along with Triumph's Rik Emmett, long after he'd already bested about 90% of the rest ten times over.

And Shy, as a unit, still remains a cut above the Pop/Metal field in playability factor. Led by Steve Harris -- the "other" Steve Harris who's every bit the Maiden bassist's equal on the six string; an amped up English version of Steve Stevens who can at once shred with the nimblest of fingers, cascade a catchy chord progression or thread the darting needle with the perfect melody to fit an otherwise simply structured song. Yes, long gone is the big hair high wire act, in no greater abundance than with Mills, he of the formerly feathery and light fa?ade, gone biker rally rebel; and never was image the intended focus of the band, as others are wont to admit in the aftermath but never truly convincing even to themselves; Shy is again the tight band they once were, still writing solid, catchy and melodic Rock tunes that follow closely their early "Excess All Areas" formula, a little caught up in the Commercial afterglow one might say somewhere at mid point, but luckily not enough to anchor itself down as had the last Journey disc; "Unfinished Business" licks a few wounds and lays it on the line after some eleven or twelve years away from the scene and about another two remembering that Alice isn't in Wonderland anymore-- or at least in this case that'd be full time Rock band in a sparsely booked Sable Rose studio.