SHOW REVIEW: The United Tour 2003
PIGFACE, MY LIFE WITH THE THRILL KILL KULT, ZEROMANCER, BILE, and RAILER @ Roseland Theatre, April 14, 2003 (Portland, Oregon)
By: Sonya Brown and Jett Black
Photos By: Roger Podva @ Circle 23 Photography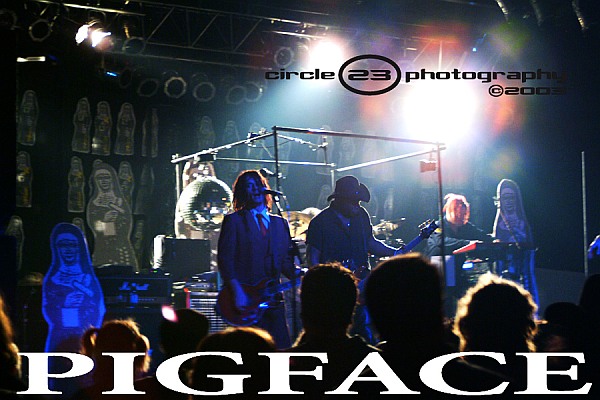 "You're either underground or you're not!"

With more than a dozen affiliated music labels supporting LIVE performance and production, Underground Inc. certainly knows how to get your attention - both with their catch-phrases, and with their latest, massive project dubbed The United Tour. Headlining The United Tour is the ever evolving ensemble known as PIGFACE, brainchild of core-musician, Martin Atkins. (Public Image Ltd., Ministry, Nine Inch Nails, Killing Joke).
Please see the detailed interview with Martin Atkins right here in the pages of In Music We Trust: Martin Atkins' interview.
A marvel in street team marketing, Underground Inc. inspires grass roots music fans into the nitty-gritty of this tour project, offering passes to the show in exchange for putting up flyers, passing out handbills and postcards, even running errands and helping the bands with laundry needs. The Field Reps are as much a part of this tour as the musicians themselves are, and Field Reps have each helped make the United Tour the success that it is. The UNITED TOUR is certain to be repeated! Anyone interested in signing up to be a field rep can contact: [email protected].
At The Roseland this evening, PIGFACE is joined by: Norway's electro-pop guitar rock band, Zeromancer; the ever-shocking theatrics of MY LIFE WITH THE THRILL KILL KULT; the "Demonic Electronics" of BILE; Portland Oregon's own beloved rockers, RAILER; and many additional musicians from various other bands that are not appearing in the actual tour billing. Seductive chanteuse musicians such as Kami of Apocalypse Theatre; and from TEXAS: Lacey Connor of NOCTURNE and CandyXXX of Bozo Porno Circus. Portland's own DJ Carrion picks up the slack at intermissions, spinning industrial tunes hand-picked for the crowd.
OK, now that the basics are down, let's get on with the show...
First up this evening is RAILER. Railer, now signed to Invisible Records (Chicago based music label), recently soared over 85 bands to win the KNRK New Rock Rumble finals this past St. Patrick's Day. It's easy to say that Railer is on a roll. Hell, RAILER is now rising among the stars of Underground Inc. fame!
Everyone put on their very best performances, including those fine young Romeos from RAILER. The crowd gathering inside The Roseland tonight brings hands clapping and lips whistling loudly in favour of RAILER who pull the heart strings and get the crowd prep'd and ready for the awe inspiring BILE who next take the stage like monsters of rock and proceed to stun the audience with trance inducing industrial-punk. The caliber of performance quality issuing from the stage makes my mind melt! Off stage, these boys are gentle as de-clawed pussy cats. And yet, shouldered instruments transform these beautiful men into the super group of the evening! BILE absolutely steals the show at this point with a stage presence that would level Manhattan! During an offstage chat with BILE bassist, Bear, he describes BILE as "destructive punks that found electronics"... straight from the "island of misfit toys". Onstage, a shirtless, very tattooed Bear explodes with his demon bass from a frenzy of backlit fog, accompanied by the amazing guitarist, Dave. Bear was right, it IS sometimes difficult to see them onstage through the strobes and smoke, but what you do see, hear and FEEL is pure punked-up industrial energy fueled by the one of the most powerful vocalists I have ever had the pleasure of hearing. My throat HURT after hearing Krztoff's rendition of "Love Stinks"... absolutely phenomenal! BILE'S latest cd, "Copy Machine", features BILE versions of such classics as The Go-Gos' "We Got The Beat", The Who's "My Generation", and Faith No More's "Mid Life Crisis". Believe me, The Go-Gos never sounded like this! Look for a new BILE cd around August '03. Bear grins slyly as he tells me the name of their new cd... "Frankenhole". It was an absolute treat chatting with Bear and Dave, and after their set I was presented with 4 BILE CDs (all of which now find a permanent home in my cd player rotation!) BILE, you have created a monster... and a fan for life. I'm most grateful. Oh, and Bear, I still haven't ventured over to naughtybids yet... but (thanks to you!) I now have quite the visual of the blowpop guy permanently imbedded in my skull! (-Sonya)
Next up, ZEROMANCER mounts the high stage and turns on the star-power. Forget the music video you've seen pouring out from this group... Nothing compares to the live experience where Kim (lyricist/guitarist) channels the demon within to become one of the most animated musicians of the evening. Alex, reputed to be the pretty boy of the tour, exceeds all expectations with a european flair for charm, good looks, and that swagger and style many might say resembles strongly that of Iggy Pop and Mick Jagger. Sonya's Comment: "I had to roll my tongue back in at the end of their set". We got the full-on view of Alex's "Q" (for Quake) tattoo onstage, as he performed tonight's set shirtless. Keep your eyes on Chris (bass) as his passion pours like sweat through a red blazing mohawk.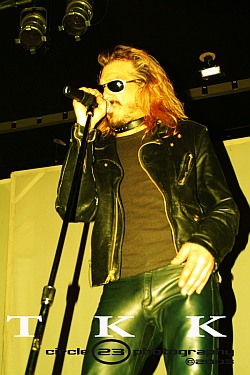 The legendary Thrill Kill Kult takes the stage, fronted by Groovie Mann, looking very reminiscent of Al Jorgensen (Ministry), who, just a few weeks ago, performed live on this very same stage. I can totally imagine Groovie Mann comfortably at home on a Harley, with a dusty wind blowing his hair back. Tonight, he is very much the rock star come to please his many fans. The first half of the set, however, is not blessed with an abundant light show, but is instead nearly engulfed in darkness. Naturally, we didn't capture many photos. The music kept most people dancing, while others chose this opportunity to drink deeply from the bars upstairs and downstairs.
PigFace pulls out all the stops and fills the stage completely with musicians from every aspect of the core line-up into a frenzy of exhibitionism. Musicians playing music the way Underground musicians want you to hear it, see it, feel it, live and breathe it! The mastery and adrenaline, and sheer machismo, even of artists living to the fullest live on stage, sweat pouring in buckets, vixens dancing and singing, and parading in song to the beat, to the charge off the crowd, and the look in one another's eyes as the energy flows between them. Scintillating! I would love to love my job as much as the great folks up on the stage enjoy theirs! Hell, I'd love to enjoy any free time at all as much as they enjoy performing and unleashing the music for us so much larger than life up on stage this evening!
The Roseland Theatre provides a stage that presents the artists who perform here in Portland in a manner that commands respect! And yet, everyone whom we met today before and during the show thus far has been so friendly, accessible, and willing to sit and chat about anything at all, and to offer support to resolve any difficulties that may arise. Kudos to everyone involved with The UNITED Tour this year! Kudos to Martin for making everything so very clear and reasonable for aspiring musicians to grasp and understand. Thanks to the musicians for having the courage to endure such a grueling trek across the USA with gigs back to back nightly for weeks and weeks and weeks.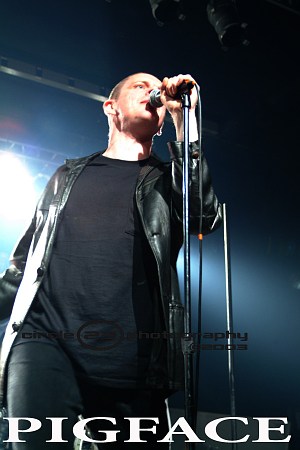 The UNITED Tour touches Home Base in Chicago to close the American schedule on this tour. We hope and fully expect to see The United Tour return again next year! And, we hope to see your face in the crowd and greet you with a hand shake, and to our personal friends: a warm hug and hearts full of cheer! This tour brings to Portland many of the friends and musicians we have not had a chance to see and chat with in many years, and in some cases, this tour provides to virgin souls a first-hand taste (at last!) of performances by PIGFACE, ZEROMANCER, and BILE.
By all means, buy the music cds and build your collection strong by visiting the pages of Underground Inc. where everyday more band names big and small from within the underground find their ways onto new releases from Underground Inc.
We might recommend the Notes From Thee Real Underground cd compilation series to start off any serious music collection.
Always remember: the LIVE show is when and where you get to meet these wonderful folks in-person! Make friends, meet people you NEVER imagined you might meet ... friends of friends who sued to tour, but have now -relocated, and re-grouped and will soon tour again, better than ever, meanwhile, they're hanging out and possibly standing next to you at the bar, and on the main floor of The Roseland Theatre.
Just like PigFace, every live show is a new experience, with new faces, and no mistakes only fresh opportunities to male new friends and re-unite with those you miss so very much. JOIN the party! Support your local scene! Support the UNDERGROUND, and watch it all rise together onto bigger stages near you!
Underground Inc. - "Working together to tear things apart!"