INTERVIEW: M. Ward
Old-time folk and indie-rock meet, and M. Ward talks about it
By: Alex Steininger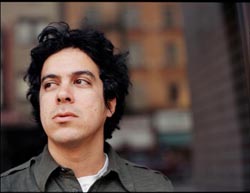 Portland, Oregon-based singer-songwriter Matthew Ward (known to his fans as M. Ward) has cultivated quite the cult following over the course of his three prior full-lengths: 2000's Duets for Guitar #2 (Ow Om), 2001's End of Amnesia (Future Farmer), and 2003's Transfiguration of Vincent (Merge).

Transistor Radio has brought him even more acclaim, wider press visibility, and rapidly increasing shows throughout his sold out tours across the U.S. and Europe.

Relying heavily on a folk-of-yesteryear sound, updated with his indie-rock tendencies, and hearty helpings of undeniable melodies, M. Ward has positioned himself as one of the brightest, well-received singer-songwriters out there today. Whether it is his comfortable, familiar, relaxed singing style or his front porch finger picking tendencies, he has become both a critic and fan favorite.

Transistor Radio, his forth full-length, and second for Merge Records, chronicles his love of radio, the format in which he discovered music for the first time.

"I didn't do anything too drastically different with this record," answers M. Ward when asked if he applied any different techniques to making Transistor Radio. "When it comes time to make a record, it seems the best way for me to string together songs that seem to be about the same thing."

"I've been learning a lot about radio the past few years, from visiting radio stations," he continues. "I just love radio. But currently I have a distaste for radio and the way it's being used. Radio is how I first discovered my love of music. I have amazing memories about the radio."

Writing a bunch of songs about the radio, and with a current love/hate relationship with it, he realized that the record was going to be about the radio, and thus decided to name it Transistor Radio.

Entering the studio with a lot of songs, M. Ward recorded twenty-five of them, picking and choosing until he came up with the sixteen that made up the record.

"The songs eventually speak up and tell you who they work with," he says of how he choose the sixteen to make the record.

And of the songs that didn't make the record?

"Some songs get re-recorded and other songs I re-use bits and pieces in other song."

M. Ward is a very mellow, low-key individual and takes the same approach to recording his records as he does about going about his everyday life. Seemingly just letting whatever happens happen, preferring to live spontaneously than to over-think or over-plan anything.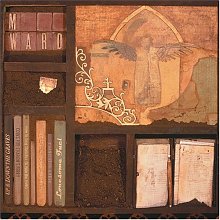 "When you first start recording, you come into it with the idea that everything needs to be prepared, pre-written. But the more recordings you do, you come to realize that the things that happen spontaneously are just as important as the things that are pre-arranged," he tells me of the making of Transistor Radio.
He adds, "If everything I'm doing in the studio is pre-programmed, it's no fun."
When pressed to comment on some spontaneous things that happened in the studio, he is at a loss to choose just one as the standout spontaneous moment, but does tell me that "something unexpected happened in all the songs, either through songwriting or the production".
He goes on to tell me that, though he has ideas of how he wants to produce the songs, "in the end, they all get jumbled up and change".
"You always start out with an idea, songs come together and it changes. It's hard to read before you do it. And when you enter the mastering process, it comes together," he informs me, commenting on when he finally knows a song is finished.
I ask him what he feels the stand out qualities and tracks of Transistor Radio are, and he quickly answers me to tell me that, "in my mind, it's too difficult to pick it out. I have no perspective on this record since I just mastered it a couple months ago. People ask me about it and I just don't have any perspective on it. I think people like yourself have a better take on what is really the stand out."
M. Ward has had incredible success in Europe for a few years now, and that success has further helped his success in the U.S. He now sells a respectable amount of records in both domestically and overseas, and is drawing sizeable crowds wherever he tours. But, to him, no matter where he goes, a show is a show and he doesn't make a distinction between U.S. and Europe.
"It's all about the same to me, Europe and the U.S. I like both sides. Some cities in America it's... it's impossible to make a statement between them," he says hesitantly, when asked in which countries he's bringing more people out to the shows.
M. Ward is currently touring the U.S. in support of Transistor Radio along with friends Norfolk and Western acting as both the opening act and his backing band. Following the tour of the U.S. the band will head over to Europe for a tour and then back to the U.S. again.
Other than touring to support his new record, another project M. Ward has been involved in lately is a John Fahey tribute record that will be released in late 2005 on Vanguard Records.
Fahey is an influence of Ward's and one he often receives comparisons to. Ward assisted in the production side of the tribute record and also covered Fahey's "Bean Vine Blues #2".
"Train and error, that's how I picked the song to cover," he comments. "I tried a bunch of songs and that one stuck". Ward is currently playing the song on tour.