INTERVIEW: Reel Big Fish
Aaron Barrett discusses 15 minutes of fame, new record, and SKA's next generation
By: Alex Steininger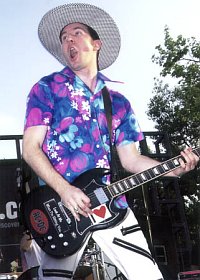 "It's not all fun and partying," says Reel Big Fish mastermind Aaron Barrett, discussing the pitfalls of being in a band, the dominant theme on the group's fifth full-length, We're Not Happy 'til You're Not Happy.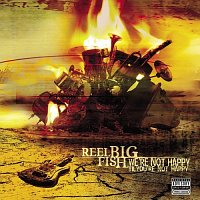 "It was more of the past few years," he continues, "or the whole history of the band. Sometimes you get down and aren't having fun and hate the people you're living with in a 40-foot long mobile home, or at least think you do because they're in your face."
It is this unhappiness and seemingly hate that found Barrett in a rut during the recording and subsequent touring of the band's previous full-length, Cheer Up! So much so that at times he thought about giving up on the band and walking away.
Then the band's manager, Vince Pileggi, who has been with the group from the beginning, suggested to Barrett that instead of quitting he channel that energy into a bunch of songs about how he hates his band and wants to quit.
So he went and wrote an album about how much he hated the band - and the music business in general.
We're Not Happy 'til You're Not Happy features such song titles as "Don't Start A Band", "One Hit Wonderful", "Last Show", "Say Goodbye", and "Your Guts (I Hate 'Em)".
"This is the third record in a trilogy," Barrett informs me. "The first one was about being in a band and trying to make it. Then Why Do We Rock So Hard? was like, 'we've made it, we're rock stars'. Cheer Up we made because we had to make it. But [We're Not Happy 'Til You're Not Happy] is about us being old and jaded now."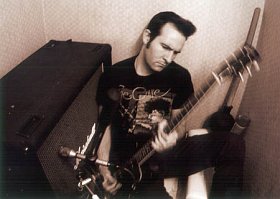 In true Reel Big Fish fashion, Barrett's tongue-in-cheek comedy is backed by self-doubt and seriousness, something Barrett says really rings home on "One Hit Wonderful".
The song starts out with a montage of radio DJs announcing Reel Big Fish and their hit song "Sell Out", before playing the song. The song soon starts and the first words out of Barrett's mouth is "fourteen minutes and fifty-nine seconds into our fifteen minutes of fame--".
I ask Barrett if he feels like that is true, if "Sell Out" was the band's biggest accomplishment and everything else is downhill.
"Sometimes you feel like that," he tells me. "Like your band is around for a long time and you wonder if you're going to get bigger. You wonder if radio will ever play you again, or if you're ever going to have a hit bigger than the novelty song you had in the 90s. You're thirty, make a living playing music, and can't do anything else. There is a lot to worry about."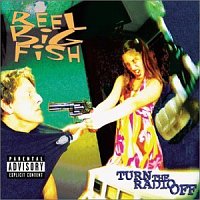 Another tie-in to their gold record, Turn the Radio Off is a song of the same name, which makes it's appearance for the first time on We're Not Happy--.
This is something Reel Big Fish has done before, with their first introduction to radio, "Everything Sucks", the title of their self-released debut, but not a song found on that album.
"I wrote 'Turn the Radio Off' halfway through Why Do We Rock So Hard? and never finished it," Barrett informs me. "I finally finished it last year and decided it would go well on the new record."
Another song that stands out on the new record is the band's cover of Morrissey's "We Hate It When Our Friends Become Successful", with Barrett sneaking in the line, "Especially if you're No Doubt, that makes it so much worse".
But, there is no animosity towards No Doubt. Barrett solely did that for the some good old ribbing of the hometown heroes.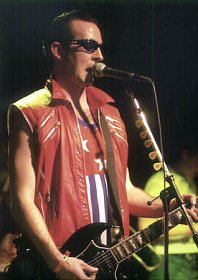 "We just like poking fun at No Doubt because they're the big band in town," Barrett tells me. "We go see them at local gigs and are happy for them. We just like to poke at them in fun."
When asked if he had heard from anyone in No Doubt about the song, Barrett tells me, " I don't think they know about our version of the song."
Barrett not only took a chance with the lyrical content of We're Not Happy--, writing songs about how much he hates the band, but he also took a bigger risk by manning the producer's chair this time around.
"We've never made a record I haven't re-mixed at least three times," Barrett says while laughing. "This one was worse because I was the producer and could do anything I wanted to with it."
With Barrett in the producer's chair, the band did a lot of pre-production and demoing before entering the studio, decided which songs they would focus on and record, and then went in and worked on those songs.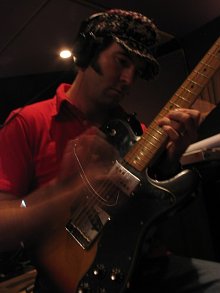 "We've always come up with about sixteen songs and put them all on the album. This time we did fourteen and put them on," says Barrett. "I want to get as many songs on an album as we can because CDs are so expensive. A lot of bands record fifty songs and par it down to ten, but I put all the songs I record on a record."
Once the record was finished, Barrett felt happy, especially with the fact that he learned so much from the making of the record, and, as he puts it, "[I] know what to do right now."
He also feels happy, for the first time, with his voice.
"[Before making the record], I got a book. It was called, The Rock 'n' Roll Singer Survival Manual [by Mark Baxter]. I saw it at the book store and thought, 'I'll try it'," he says with his trademark laugh.
"I am really happy with my voice and feel like I've learned how to finally sing," he continues. "If you listen to Turn the Radio Off, I am singing only one note and always hated my voice."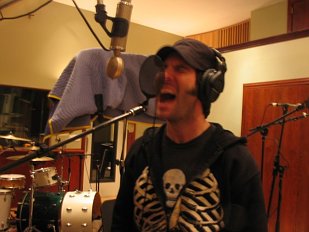 One of the first things longtime Reel Big Fish fans will notice about We're Not Happy-- is the fact that the band has returned to their trademark ska-pop sound. Whereas with Why Do We Rock So Hard? and Cheer Up! found the band moving in a decidedly more power-pop vein, the new record is Reel Big Fish back doing what they're best known for.
Due to Reel Big Fish's detour into straight power-pop, Barrett, a true lover of ska, went off and started a side-project band, The Forces of Evil, with members of other Southern California-area ska players. Their record, Friend or Foe?, sounds every bit Reel Big Fish circa Turn the Radio Off.
"The funny thing about that," Barrett says, "is that was supposed to be the next Reel Big Fish record. And when I turned it in to the label, they said, 'this should have been the Reel Big Fish record'".
I then ask Barrett if Reel Big Fish's move away from ska was a career choice due to ska's death at commercial radio and press. And, then, discussing their song "One Hit Wonderful" again, Barrett informs me that even without radio or major press support, the band's audiences have been growing.
"We're doing pretty well," he tells me. "Last summer was one of our best tours ever."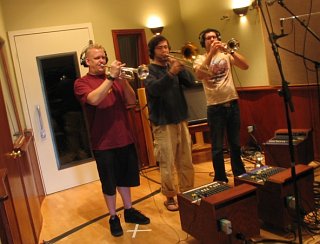 "I think a lot of kids are just discovering us because the crowds are getting younger. I think kids are still getting into ska from their older siblings," he continues. "When I was a kid and getting into ska, you had to get The Specials. Now kids have to get Less Than Jake and us. And it's great to be part of the ska scene."
The band is now touring Europe, where they are drawing 3,000-5,000 kids per show, and will be touring the U.S. extensively after coming back from overseas.
"When we're not touring, we're actually practicing this time, which is really weird," Barrett tells me. "We're practicing 2-3 times a week now. We'll be technically proficient on this tour. We're striving to be a better band."
The band's commitment to practicing is a result of a few previous tours that started off quite horribly, as explained by Barrett.
"We'd start a tour and the first couple of shows were just horrible. So I decided I didn't want to be embarrassed anymore. We're not going to sound like super perfectionists, not like the record, but at least like we know how to play our instruments."
Finishing up the interview, I ask Barrett, after listening to the new record, what keeps him going. And with his trademark humor he tells me, "It's the negative energy that keeps me going".
And he was only half joking.