Nancy Moore
Local Flowers (Pinecastle Records)
By: Alex Steininger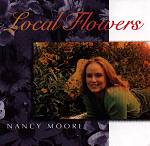 If you've never heard of Nancy Moore, you're not alone. She is completely new. She isn't a solo artist from an established band, she isn't a famous session player, and she hasn't even developed her name in the bluegrass industry, yet. But, because of the fact Tom T. Hall and wife Dixie Hall wrote, produced, and financed this recording (before Pinecastle picked up on it), there was no problem landing Nancy Moore a recording deal with bluegrass label Pinecastle. Of course, her beautiful voice didn't hurt, either.

Opening with "High Lonesome Love," the fiddle and banjo beautifully move through the song with a sweet sting, while Nancy's voice adds a fresh breeze of glory, not unlike that of a hot springs day in the garden, with the smell of fresh, blossoming flowers in the air. "Taylor County Jail" bounces around with some hot beats, but it is Nancy's sweet, sassy voice that gives the music its life. The same goes for "A Picture of Jesus," though instead of bouncing around, the song takes a rest and gently sways in the wind. But, Nancy's voice, like usual, is the focal point of everything. The words spring out of her mouth with so much care, she freezes you in place when she sings, because you don't want to miss a thing.

"Mama Remember" is another standout track on the album. It takes the gentle approach. The song swims around in a sea of sweet, soft, delicate harmonies that are easy going and full of love. You can't help but feel warm inside when the beautiful music meets Nancy's voice. There is just something about it that makes you want to cuddle by the far with a loved one and just enjoy the music.

For a new comer to the Bluegrass scene, she's spectacular. You'll be hearing her name over and over again in the bluegrass genre in a year or so, if not sooner. She's sure to make a dent and stay awhile, and the proof is in this album. Look no further, you've found a future bluegrass star. I'll give this album an A.